The world of wine appreciation is vast, rich, and often very confusing, isn\'t it. So we here at Barn Lights (in southern Maine) appreciate any expert who takes the time to visually explain key concepts of wine — including how to pair it with food.
Here\'s a useful food + wine pairing chart, from a web resource called WineFolly.com (view the source article).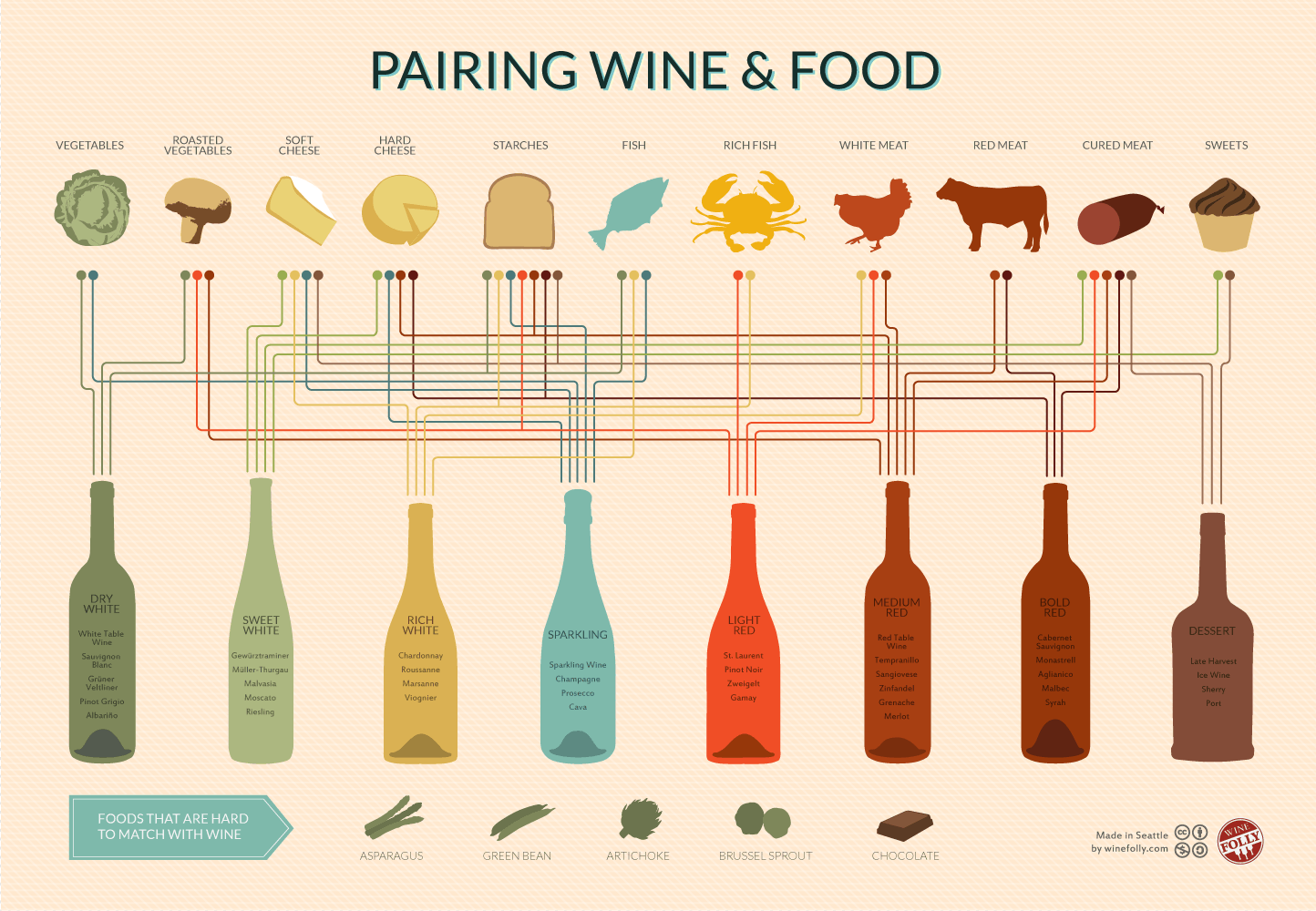 Sommeliers use opposite taste profiles such as \"sweet with sour\" to create pleasant food and wine pairings.
Madeline Puckette (a James Beard award winning author) has 5 tips for pairing wine with food:
Champion the Wine. The number one guideline is to bring out the best characteristics of a wine. A high tannin red wine will taste like sweet cherries when paired with the right dish.
Bitter + Bitter = Bad. Since our tastebuds are very sensitive to bitterness, it's important not to overwhelm that sensitivity by pairing bitter food with high tannin wine.
Wine Should be Sweeter. As a general rule, make sure that the wine is sweeter than the food it is accompanying and you will have a successful wine pairing.
Wine Should be More Tart. A wine should have higher acidity than the food it's matched with, otherwise it will taste flabby.
Improve an Earthy Wine. On their own, old world wines can be very earthy and tart. However, when you pair an earthy wine with something even more earthy like mushroom stroganoff, then the wine tastes more fruity.
We recommend you check out their guides! 
Did you know?
Barn Lights Catering can prepare your event\'s breakfast, lunch or dinner. Design your own menu theme!