Corporate and Special Events
Weddings
 

•

 

Corporate Events

 

•

 

Anniversary Parties  •  Musical

 

Performances

 

•

 

Themed Dinners

 

•

 

Community Events  •  Festivals

 

•

 

Banquets

 

•

 

Health & Spiritual
Hosting your event at the Barn Lights venue
The Barn Lights venue in Acton, Maine can host up to 160-170 guests indoors (300 total outside with a tent rental),  for plated, family, or buffet-style meals.  It includes a bar and indoor lounge areas, along with two large bathrooms. The facilities are ADA accessible and we are a four-season venue.
Think of us for your family reunion, corporate function, summer BBQ, art show, or other special gathering. We have 50 acres of trails and forest to enjoy, as well as many recreational amenities.
Amenities
60′ x 60′ Timber Frame Barn
16 tables w/10 chairs each = 160 attendees inside; 200-300 outdoors
Two indoor bathrooms (3 stalls each for 6 total toilets)
Commercial licensed and insured kitchen (see our Catering service page)
Full Bar area (see our Bartending service page)
Two lounges
Outdoor Patios and Fire Rings, and large lawn
Rec Center with bathroom
Two cottages for day use or lodging (optional)
A/V equipment and portable stage on request
Pricing
We strive to make your budgeting for a special event simple, by calculating the venue rental price at number of attendees times the duration (how many hours)—everything inclusive (see details below), so that you are not nickel and dimed with add-ons.
Contact us for detailed pricing information or to schedule your event.
Hoedowns, Dances & Proms
We've been asked about hosting non-wedding events, and yes indeed, Barn Lights is perfect for all kinds of events—whatever special function that would be enhanced with rustic timber-frame elegance, soaring ceilings, informal ambiance and modern amenities.
As an example, we posted an article in our blog about High School Proms. 
Southern Maine's newest rental Venue
Rustic elegance, timberframe beauty, and a perfect location in the lakes region of York County, Maine

Attendants

50 Acres of Nature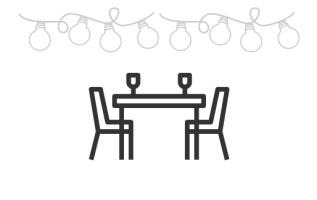 16 Tables, 160 Chairs

Lodging for 10 guests

Fast WiFi

Rec Center